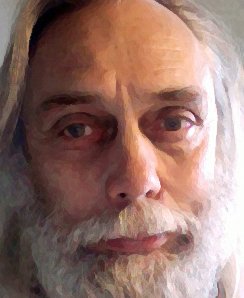 About Me...
For several years now people have been coming to my cabin on Sonoma Creek to talk with me, here in the Valley of the Moon. This is also where I come to think, and write, and take walks in the woods nearby. From time to time I post a photograph I have taken— along with a poem— by the door of my cabin.
My deepening interest in this place and the people who have lived here has involved me in the activities of the local historical society. I've always believed that history is not just about the past— it's about how and why we became who it is we are today, the ballast that steadies our travel into an ever evolving future.
I have four children and six grandchildren, and have been happily married to Maria for over thirty years now. Out of compassion for me she has skillfully redesigned this website, which you are invited to explore. Please return whenever you like, since— like myself— my website will certainly change over time. If you have any comments about this website, please let us know.
Ways to Contact Me...
Telephone: (707) 935-3663
Email: jshere@sonic.net

My cabin is in the historic complex known as Jack London Village, at 14301 Arnold Drive in Glen Ellen; but I do not receive mail there. Send all correspondence instead to: PO Box 2108, Glen Ellen, CA 95442.
You may follow me on Facebook or read my monthly column "Living Life Well" in the Kenwood Press.